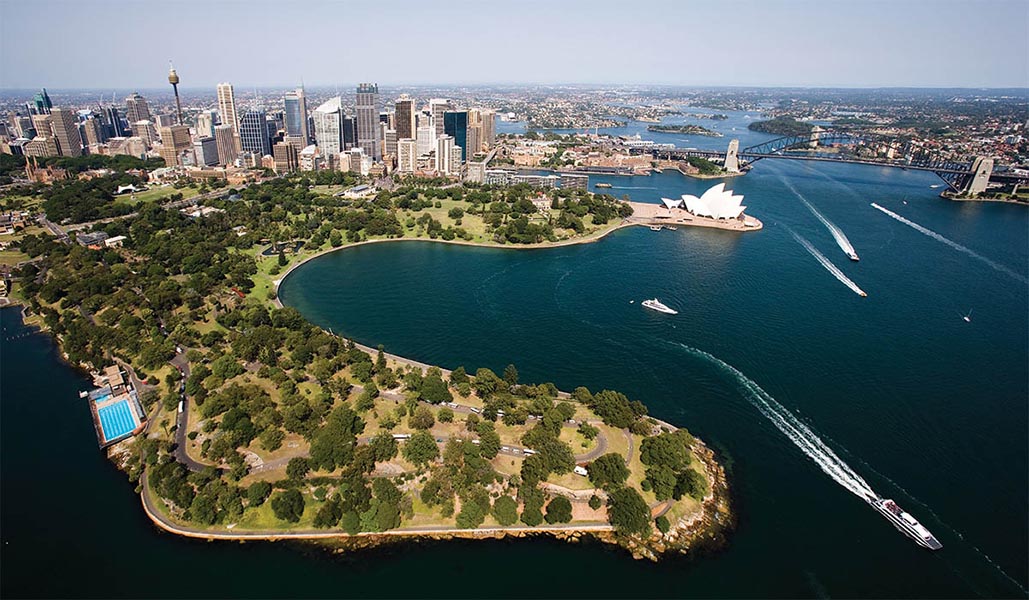 Image: Brett Boardman (c)
'All politics is local' goes the popular saying. Urban design can be thought of in the same way: all change is local. No matter how overarching urban issues are, they play out one building or one street at a time – in real time – in the everyday experiences of the public. Perceptions of what feels right change over time as urban design plays out and the layers that make up places build up.
As major redevelopment initiatives shape change across the city – Sydney Light Rail, Barangaroo, WestConnex and other major projects – what kind of change 'feels right' to Sydney residents? And as the skyline changes, how do their views alter over time?
Cities change over time. They can be beautiful, but they are not works of art designed by a single creator, nor should they be. The stasis of a place is an accident of time: the question 'What was it like when I got here?' is the basis for the identity of a place, as it already exists. We accept the accidents of history from a distance, because we already see them as part of a place. How should this influence our work today?

Sydney CBD proposed zoning envelope. Image: smh.com.au
Our work is all about change in the urban environment and some of it can be dramatic. To deal with this, we look at the structure of a place as it is today, look back to see just how different it was in the past, and try to imagine a future that is based on supporting its dynamic qualities or activities. This can mean change to the character of a place and that can be okay, as long as quality-of-life issues are brought to bear. We also try to keep in mind that someone else is going to continue shaping that place once we have finished our work; perhaps not next year, but probably within the next decade. Of course, there is genuine heritage fabric to be aware of and considered, but I think it can be understood as part of an evolving identity of a place.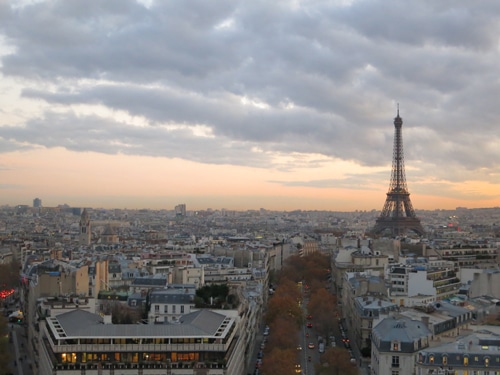 Eiffel Tower at dusk. Image: Brian Holsclaw (c) 2010
The Eiffel Tower is a case in point. When it was first proposed, there was a backlash from some of the city's art establishment in order to defend what they considered to be 'the untouched beauty of Paris'. It was considered an intrusion into the horizontal cityscape. They insisted that it would dominate and overshadow well-known structures like Notre Dame, the Louvre, and the Arc de Triomphe. While this sentiment is familiar to many Sydneysiders, we would hardly imagine the Eiffel Tower in that way today. [i]
Chatswood, on the Lower North Shore of Sydney, has rapidly evolved as a major business and residential district. Some towers stretch to 40 storeys, but it looks right. What would residents of 30 years ago have said of Chatswood today? Would those residents have considered it okay? The idea that tall buildings could be seen from single family residences would perhaps have not been an acceptable outcome in 1988. Today, it is part of the varied built form experience in many parts of Sydney. I live near Redfern Park. When I moved into the area 11 years ago, no tall buildings were visible from the park except for those in the CBD. Now you can see the towers of both Green Square and Victoria Park. I think this is fine and adds a further sense of orientation to the neighbourhood.
Darling Harbour is undergoing a second-generation development, evolving into a 'contemporary cultural precinct' coined Darling Quarter. For many years a working port, the warehouses and rail yards of the area first gave way to Darling Harbour, an 'entertainment' destination for the 1988 Bicentenary. The current development parameters change all that, as high-rise buildings are under construction where the Entertainment Centre used to stand – a changed urban understanding that looks right to us in 2018. I believe Darling Harbour was originally conceived of as a valley between the two ridges of Pyrmont and Sydney. This was reflected in its earlier built form. Today, with the built form of both Pyrmont and Sydney having more complexity and density, it seems right to knit the two together with a more complex idea about the identity of Darling Harbour.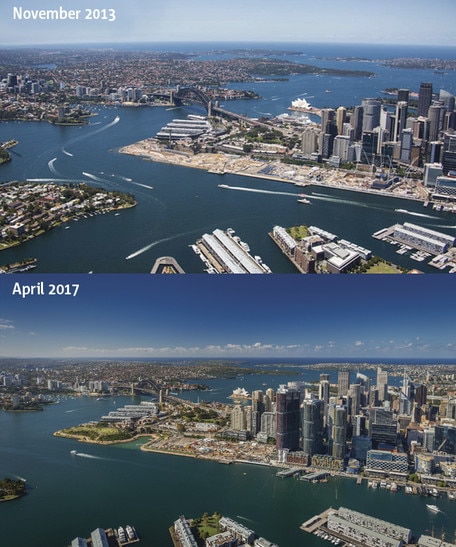 Barangaroo. Image: Barangaroo Delivery Authority (c)
Barangaroo, once a more modest proposal, is distinguished by a number of very tall towers, which attracted criticism from some quarters over the heights permitted at this waterfront location. I continue to play a role in this project as a Design Advisor to the Barangaroo Delivery Authority. Despite the controversy, it appears that Barangaroo has been a catalyst for the City of Sydney to consider revisions to its built form strategy to provide additional height in a number of places. In 2016, the city mooted changes to its planning controls that set out increased building height limits in what can be described as 'new tower clusters' near Haymarket, Circular Quay and further west near Barangaroo. While this change has yet to work its way through the planning system, it seems consistent with an evolving idea of Sydney's character. These new clusters are being defined in part by planes protecting solar access to major open spaces.
New York City is a classic study of city in transformation. Ask a resident in the 1970s and they may speak of the construction of the World Trade Center as an intrusion into a pre-war 'gothic' skyline; excessive bulk and shadow; and the destruction of a fine-grained urban fabric. A New Yorker of the 2000s might understand the destruction of the World Trade Center as the loss of the city's identity, gutsy downtown skyline and part of its history. Why the difference of opinions?

Left: The Twin Towers, World Trade Center NY. Right: Freedom Tower, One World Trade. Image: unknown
Between the time the World Trade Center opened in 1973 and when it was destroyed in 2001, the city adapted both physically and socially to its presence and the city's population grew by about one million people. The development of Battery Park City, a two kilometre stretch of waterfront, extended the traditional New York grid past the World Trade Center and embedded it into its fabric. Perhaps, then, these newcomers saw the World Trade Center as the part of the city's stasis, the way it was meant to be, and not an intrusion into a past New York that they never knew. I grew up in New York and recall the twin towers being built. I returned to New York in 1999 to work for several years at Kohn Pedersen Fox and was in my office on 57th Street during 9/11. I recall having both of these feelings about the World Trade Center, as did many other people. Interestingly, while I was working in New York all of the projects I was involved in were high-rise towers in Asia, from where I had just returned after 11 years designing metro systems… one of the most powerful city-shaping initiatives there is.
We try to keep in mind the notion of an evolving city. Urban form defines the spaces of our lives and sets the framework for daily activities. We look to create urban places that are flexible, adaptable over time and provide robust support for the activities of urban life.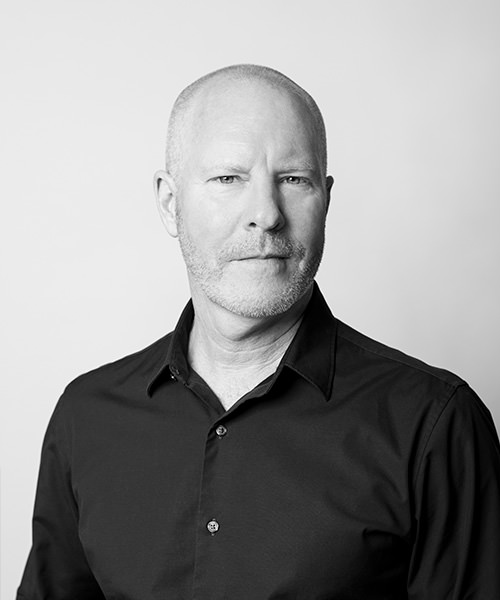 Having lived and worked in the United States, Taiwan, Malaysia and Hong Kong, CM+ Design Director Richard Nugent brings a unique international perspective to urban design and infrastructure development in Australia.
[i] Lindsay Shapka, 'Art or Eyesore? The Eiffel Tower History you Probably Didn't Know by in Art', The Anthrotorian